● ARTHA EXPRESSニュース翻訳●

ARTHA EXPRESS トップニュース



●

Pizza Hut & KFC arrive in Nepal●


Posted on 2009-11-23
KATHMANDU, November 23:Devyani International, under the umbrella of Ravi Kant Jaipuria's RJ Corp, here today announced the arrival of Pizza Hut & KFC restaurants here, marking the first multinational chain of restaurants coming to Nepal.

RJ Corp is the biggest bottler of Pepsi brands in India and Nepal and also largest franchisee for YUM brands in India namely, Pizza Hut and KFC. Devyani International along with YUM Brands, the world's largest restaurant company with five dynamic global brands and 35,000 outlets across 105 countries, is excited to make their entry in the Nepalese restaurant circle and has extensive plans for growth and expansion in this market.

With the belief that consumers in Nepal are ready for international eating-out experience they have launched their first two outlets at Durbar Marg. As stated by the officials of R J Corp, Nepal is a promising market for these brands and their entry will give the Nepali economy a boost by creating job opportunities for locals. The opening of these two outlets would give Nepali consumers the first local experience of an international food chain. They have promised an upcoming rush of announcements and product launches that will make this an exciting time for consumers.

NMB Bank Limited is the financial partner of Devyani International for bringing Pizza Hut and KFC to Nepal.


●Income tax exemption raised Disposable amount up by Rs 5,000 per couple●
Posted on 2009-07-14
KATHMANDU, July 14: Salaried and fixed middle income groups have threegood reasons to cheer up in fiscal year 2009/10, starting July 16 2009.
First, the budget - planning to spend Rs 285.93 billion in the next fiscal year - has raised the tax exemption limit for individuals to Rs 160,000
and to Rs 200,000 for couples. This has directly raised their net disposable income by Rs 3,750 and Rs 5,000 a month respectively. Secondly, the government has lowered the capital gains tax (CGT) to 10
percent from 15 percent, ensuring people a better return on share transactions in the new fiscal year. This will encourage all share investors and spur
secondary market transactions as well. Thirdly, the government has annulled the local development tax (LDT) from Monday. This will instantly reduce the cost of imports by at least 1.5
percent, meaning the prices of imported goods will be slightly cheaper.
Revocation of LDT and dropping of CGT will also encourage business, industry and other investors as well. Ups and Downs The budget that Finance Minister Surendra Pandey presented at parliament
Monday slashed customs duty for essential goods, making sugar and other consumable items cheaper. However, upper-middle income groups aspiring
to climb the economic ladder have been asked to pay more.
Hiking excise duty, the budget has caused the price of four wheelers to go up by around 5 percent while motorcycles will become more expensive
by 6 percent. Rise in excise and customs duty has made liquor, beer, cigarettes and cement clinker more expensive. Interestingly, however, the budget has slashed
customs duty on white cement by 10 percent.
Moreover, the government has imposed value added tax (VAT) on the construction of buildings, apartments and shopping complexes worth over Rs 5 million.
Ten percent CGT has also been imposed on transactions of land and houses exceeding Rs 5 million. The government is bringing commodity futures market
transactions into the tax net as well. Industry and Trade
Aiming to support industry and spur trade, the budget has reduced the prevailing 40 percent customs duty to 30 percent and slashed the agriculture reform
fee. It has offered an income tax discount of 10 percent for special and information technology industries employing 300 or more Nepalis around the year. Similar
20 percent tax discount has been offered to industries employing 1,200 or more Nepalis around the year or providing direct employment to more
than 100 Nepalis including 33 percent women, dalits and the handicapped. Industries using more than 90 percent domestic scrap have been offered excise duty exemption. VAT and customs duty exemption have been offered
on the construction materials, machinery, equipment, tools and spare parts for hydropower projects. The new budget, surprisingly, has made registration for VAT mandatory for person importing taxable items exceeding Rs 10,000. It has also offered various concessions and procedural simplifications for export industries. For instance, lump sum VAT refund within 30 days has been promised to an
individual or firm exporting more than 40 percent of monthly sale. Concession has also been offered to industries importing raw materials through bank
guarantees or the pass book record facility. Firms producing, importing and selling excisable items need no longer get an excise license except in the case of the brick industry, stone crushers
and tobacco products. Tax Compliance Year The government has pushed fiscal year 2009/10 as Tax Compliance Year for fostering the tax-paying habit. Under the program, the government has made
it compulsory for all income earners and advance tax payers (under TDS or tax deduction at source) to get a permanent account number (PAN). <BR>
To encourage compliance, the government has offered a scheme whereby income earners not registered with PAN so far can enjoy a tax and fine exemption
for the previous year if they get their PAN and submit the tax returns of 2007/08 and 2008/09. "Those who don´t file tax returns and pay tax within this exemption period,
however, will be subjected to the payment of all taxes, charges, interest and penalty right from the time they got involved in income generation,"
said Minister Pandey. New Service Centers and IRO In a bid to enable taxpayers to clear their dues at the local level, the government announced establishing of taxpayer service centers in Kathmandu Valley, Dhankuta, Surkhet, Baglung and Jumla. "An Inland Revenue Office (IRO) also will be established in Butwal."In districts where the IRO is absent, the government is setting up a taxpayer
service unit at the District Treasury Office for registration, distribution of PAN, tax collection and providing of other taxpayer services. Pandey also proposed setting up a high-level permanent Central Revenue Board within the next fiscal year. He has mooted changes in the structure
of the Department of Revenue Investigation and announced immediate establishment of additional unit offices in Thankot, Bardibas and Attariya. He further announced formation of a separate revenue police as an emergency flying squad for controlling revenue leakages.

Posted on 2009-07-2
NAC to finalize aircraft purchase soon


KATHMANDU: Nepal Airlines Corporation (NAC) has said that the process of buying two new aircraft was at the final stage and that the deal would be approved by

its board of directors within 10 days.

NAC managing director K.B. Limbu said that management was studying the facts and figures related to the aircraft purchase.

"We are giving priority to narrow-body aircraft. But the decision whether to buy two narrow-body planes or one narrow-body and one wide-body plane will be made by the board," said Limbu.

He added that a narrow-body aircraft would cost around US$ 45 million while a wide-body aircraft would cost around US$ 90 million.

Addressing the anniversary function, chairman of the board B.K. Man Singh said that discussions with the government were at the final stage. "Our first priority is buying the aircraft. We should reach a logical conclusion soon," he added.

"If we fail to buy aircraft this time, no bidders will respond to our tender call for purchase of aircraft in the future," said Singh.

The chief guest at the function, Minister for Tourism and Civil Aviation Sharat Singh Bhandari, said that expanding NAC´s fleet was crucial for Nepal Tourism Year 2011, tourism promotion, development and creation of new jobs.

"We urgently need at least one new aircraft. We should buy it in a transparent manner as soon as possible," said minister Bhandari. Assuring NAC of the ministry´s support, Bhandari urged the carrier to enhance internal management and human resource management and provide its staff comprehensive training to raise it competitiveness.

Currently, NAC owns a fleet of six aircraft and flies to six international and 25 domestic destinations. Of the six aircraft, three are Twin Otters which operate on domestic sectors. Two decades ago, the carrier possessed 21 aircraft and served 18 international and 32 domestic destinations. NAC aims to expand its services to the Gulf and Southeast Asia as soon as it gets new aircraft.

"Within the next five years, we will be operating international flights with four narrow-body and three wide-body aircraft," said Limbu. NAC plans to fly to Europe, Japan and Korea within five years. It also aims to add a 50-70 seater aircraft for mountain flights.

According to NAC, it will be offering additional services to tourist spots like Karnali, Manang and Kanchanjunga.

"I have been here only a month; give me two months to carry out reform at NAC," said Limbu. The airline awarded gold medals to 42 employees for completing 25 years of service during the anniversary celebration.

Speaking at the function, a representative of the NAC Employees Union stressed the need for new aircraft and asked management to address its 11-point demand at the earliest.

●Developing countries´ GDP to slow to 1.2 percent: World Bank●
Posted on 2009-06-23

The World Bank on Monday estimated economic growth in developing countries of 1.2 percent this year, and said that without China and India, output would shrink 1.6 percent. Amid the worst global financial and economic crisis in seven decades, the multilateral institution eight days ago lowered its outlook on global growth, to a contraction of 3.0 percent this year.

It slightly revised the global gross domestic product (GDP) figure Monday, to a 2.9 percent decline.

The development lender´s preceding forecast, published in late March, put developing countries´ annual growth at 2.1 percent, and at zero if China and India were excluded.

In 2010, global growth was projected at 2.0 percent, and that of the developing countries at 4.4 percent, according to the bank. Excluding China and India, the developing countries would grow 2.5 percent.

China´s economy was forecast to expand 7.2 percent in 2009 and 7.7 percent in 2010, while India´s forecast was for 5.1 percent followed by 8.0 percent.

The latest World Bank forecasts on gross domestic product (GDP) -- a measure of goods and services output in a country -- came in a report, "Global Development Finance 2009: Charting a Global Recovery," published to coincide with a three-day Annual Bank Conference on Development Economics opening Monday in Seoul.

The World Bank expressed concern about the thinning flow of private capital into developing countries, which has fallen nearly by half this year -- 49 percent -- to 363 billion dollars compared with 707 billion in 2008, after a record 1.2 trillion in 2007.

The development lender also projected a 9.7 decline in global trade volume this year, before a 3.8 percent growth rebound in 2010.

"The need to restructure the banking system, combined with emerging limits to expansionary policies in high-income countries, will prevent a global rebound from gaining traction," Justin Lin, World Bank chief economist, said in a statement.

The anti-poverty bank called for "special attention" to "the risk of balance-of-payments crises and corporate debt restructurings in many countries," in order to "avoid another debt crisis as seen in the 1970s and 1980s."

That was particularly the case in the hard-hit developing countries in Europe and Central Asia, where GDP was projected to fall 4.7 percent this year, before a slight recovery to 1.6 percent growth in 2010.

A similar pattern of decline and rebound was seen for Latin America and the Caribbean, where a 2.2 percent GDP contraction in 2009 would be followed by a 2.0 percent expansion the next year.

Other regions of the developing world continued to show growth but no contraction. In East Asia and Pacific, GDP was expected to rise 5.0 percent in 2009 and 6.6 percent in 2010, while South Asia would expand 4.6 percent, followed by 7.0 percent.

GDP in the Middle East and North Africa was expected to rise 3.1 percent in 2009 and 3.8 percent in 2010.

Sub-Saharan Africa would expand 1.0 percent, then accelerate to a 3.7 percent pace next year.

The relative economic weakness in the developing countries after recent years of robust growth heightens the risks of social unrest and deepening poverty, the 185-nation institution said.

●Handicraft exports up 17 percent● Posted on:8June2009
 

KATHMANDU: Exports of handicraft goods went up by 17 percent over the first nine months of the current fiscal year. However, exporters noted that the growth has come largely due to the weakening of the Nepali currency.
Handicraft exports up 17 percent


 Between mid-July 2008 and mid-April 2009, Nepal exported handicraft goods worth Rs 2.22 billion to around 80 different countries, compared with Rs 1.89 billion in the corresponding period last year, according to the Federation of Handicraft Associations of Nepal (FHAN).
 In terms of the US currency, however, exports in the nine months of this fiscal year had fallen by 0.3 percent, to US$29.51 million.
 Dilip Khanal, executive secretary of FHAN, attributed this discrepancy in the overall picture to the gains made by the US dollar vis-à-vis the Nepali currency. A dollar was valued at between Rs 68.85 and Rs 80.15 in the first nine months of 2008/09, whereas it had averaged between Rs 64.45 and Rs 65.44 in the corresponding period of the last fiscal year.
 But that same factor, the increase in the dollar´s value against the Nepali rupee, does not provide a blanket explanation for the increments made by certain export items. Pashmina products, for instance, saw a growth in exports because pashmina companies diversified their products range. Exports of pashmina products had gone up by 31 percent, to Rs 573.65 million, in the nine-month period this year.
 "This is because Nepali traders are now exporting not just pashmina shawls, but a wide range of pashmina products, including sweaters and ponchos," Khanal said.
This year, Nepali pashmina products--which made up 26 percent of the total handicrafts exported--were exported to around 40 countries around the world. Of this, Rs 200.95 million-worth of pashmina products, around 35 percent of the total pashmina exported, had reached the United States alone, making the country the largest importer of this prime Nepali product.
 Exports of woolen products, which make up 15 percent of the total handicraft exports, also went up by 27 percent to Rs 336.95 million in the nine-month period. Exports of other textile items, such as felt, cotton, hemp and dhaka products, also went up both in terms of Nepali as well as the US currency.
 Among non-textile items, exports of silver jewelry, which make up 12 percent of the total handicraft exports, went up by a marginal eight percent to Rs 265.05 million. But in terms of the amount of US currency generated, that figure fell nine percent.
 Similarly, handmade paper products, which constitute up to eight percent of the total handicrafts exported, saw its exports go up by 17 percent in terms of the Nepali currency but fall 2 percent in terms of the US dollar.
 Top 5 importers of Nepali handicraft products:
  The USA - Rs 633.12million
  Germany - Rs 238.84 million
  Japan - Rs 188.28 million
  The UK - Rs 166.73 million
  France - Rs 148.33 million
 *Figures based on the first 9 months of current FY
●
NT mulls rolling out 4G network
●

Posted On: 1 June 2009
 
KATHMANDU: Nepal Telecom (NT) is mulling over rolling out in Nepal the fourth-generation (4G) network, which provides a much faster, ubiquitous and seamless access to internet services.
NT mulls rolling out 4G network


 A team is currently conducting a feasibility study on the possibility of launching this service in Nepal, Lok Raj Sharma, head of NT´s IT department, told Republica. "We will get a comprehensive report within two months and decide on whether to float a public tender notice and invite interested parties to submit bid documents, or to roll out the next-generation network by ourselves," he said.
 The wireles broadband technology 4G, which provides peak internet speeds of 160Mbps, was recently unveiled for the first time, in Sweden, by Ericsson and TeliaSonera. It is expected to be commercially launched in that country next year.
 Although TeliaSonera has an 80 percent stake in Spice Nepal Private Limited (SNPL), Chandi Shrestha, director of SNPL, has said that the company does not have any plans of launching this service now in Nepal. "Our only focus at this moment is on expansion and increasing the country´s teledensity, not on introducing new services," he said.
 If NT launches the cutting-edge 4G technology, the company--the first to introduce 3G services in South Asia--will further consolidate its position as the frontrunner in introducing the latest wireless internet technologies in Nepal.
 NT was the first telecom company to introduce wireless internet services that operated on the PDSN (Packet Date Serving Node) technology. This service can be accessed using 1x USB modems or PCMCIA cards and offers a peak speed of 256Kbps. NT is also launching another wireless internet service, called EVDO (Evolution, Data Optimized), for the first time in the country very soon; the EVDO offers a top speed of 2Mbps.
 "But 4G is a different ball game altogether" said Sharma. "Due to its high-speed connectivity and its wireless nature, this service will give a completely different broadband experience, especially to users who are on the move."
 With this service, users can watch television over the internet, video blog, play online video games, use mobile office applications and download an entire movie in less than five minutes, without encountering any problems. In other words, seamlessness will be the most important characteristics of the 4G service, Sharma said.
●500 rupee note shortage likely to stay longer●

Posted On: 24 May 2009
 
KATHMANDU: The unexpected indifference shown by a French security printer in accepting an additional note-printing order from Nepal Rastra Bank has heightened the possibility that the current shortage of notes will extend for a longer period than was expected.
500 rupee note shortage likely to stay longer


 According to a central bank official, the French company, which had earlier bagged a tender to print 40 million units of 500 rupee notes, has not seriously responded to the repeated attempts by the central bank to come for negotiations to increase the note print order.
 "We requested the French company to send a team of representatives for negotiations as soon as possible, but we received a cold response: the company said it could send its representatives only in July," said the official.
 Earlier, in the last week of April, the board of the central bank had authorized the management of the central bank to raise the volume of the existing printing order for 500 rupee notes to 100 million units and to immediately invite the French company for negotiations.
 The latest development has also raised the possibility of the central bank´s floating a global tender for printing 100 million units of 500 rupee notes, said the official, but he added that the management of the central bank would probably wait till the end of this week before deciding on the course of action.
 "We will be left with no other options than to go for global tenders among the pre-qualified security printers if the French company doesn´t respond positively by the end of this week," said the official. He also said that the NRB currently has a list of a dozen pre-qualified companies who will participate in the tender process. NRB reviews its pre-qualified companies every two years.
 If the NRB opts for a global tender, the country will probably get the first supply of fresh 500 rupee notes in May 2009, which will be three months later than the earlier expected date. That delay, said the official, is expected because the global tender will have to pass through various legal requirements.
 The 40 million units of 500 denomination notes to be produced by the French company will be supplied by the end of July, and according to the concerned NRB officials, those notes will be enough to meet the higher demand that´s generated during the festival seasons.
 Apart from the 500 rupee notes, the central bank has also placed an order for 100 million units of 1,000 rupee notes. But that consignment will be arriving only in January 2010.
 As a result of unusual withdrawals from banks and the delay incurred in replacing old notes by the central bank, the market has been suffering a shortage 1,000 and 500 rupee notes.

●Global fair trade conference starts in Kathmandu●

Posted on 2009-05-18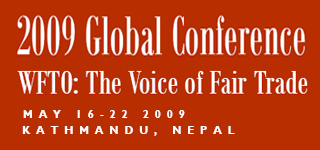 KATHMANDU,: The World Fair Trade Organisation (WFTO) Global Conference 2009 started Sunday at the Hyatt Regency.
 The five-day meet will discuss the current situation and other agendas, said Padmasana Shakya, chairperson of the Fair Trade Organisation Nepal.
 President of the WFTO Paul Myers said that it was not only Asian countries that were striving for the welfare of the weaker sectors. But with top companies like Tata, Starbucks and Cadbury on the run, the trading fair will reach a level of progress and economic development.
 He added that one of the objectives set by the WFTO this year was to exchange products internationally and help the lower strata improve their socio-economic conditions. The conference brings together delegates from different WFTO member countries who were present there to uplift the standards of the marginalised economies. Among the different means by which the standards could be raised included facilitating Fair Trade Market expansion, enhancing the capacity of member organisations of FTG Nepal and expanding and strengthening the national, regional, and international network.
 The main objective of the conference is to promote fair trade, capacity building of BSOs, enterprises and produces, fair trade monitoring assessment and development, said Myers.
 Speaking about the changes in the weaker sectors, he said, "The smaller organisations have become more confident and strong, and a few of them have started their own business in fair trade which reflects progress."
 WFTO liaison officer Carol Wills said that Nepal was rich in its culture and heritage, and produces fine and quality products. Women have managed to improve their social and economic conditions over the years. There were various programmes scheduled for the day which were followed by a presentation by Paul Myers and board members Moctar Fall and Paul Deighton.
 Fazie Hasan Abed, the chief guest and founder and chair of the Bangladesh Rural Advancement Committee, Bangladesh, gave the keynote speech.


●Recession to minimally impact tourism●
Posted on 2009-05-12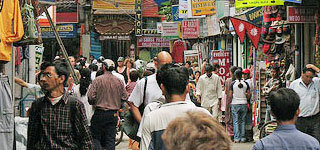 KATHMANDU: The global economic crisis, which has led to millions of job losses worldwide, will not have a severe impact on Nepal´s tourism industry, as had been expected by many, says a snap survey conducted by Nepal Tourism Board (NTB).
 The findings were released at a time when the tourism industry has seen mixed results in tourist inflows, with declines recorded in the first three months of 2009 and a sudden increment recorded in April. Although the survey says that tourist arrivals will slightly decline this year and that the mood is not very positive, it adds, "business is better than what many have expected."
 Pessimism had shrouded this sector since the second half of last year, when the global financial crisis took its toll on households worldwide. Gloom continued to dominate the Nepali tourism industry too through the first quarter of 2009, with Nepal´s hotels reporting a 20 percent decline in occupancy rates and many travel and tour companies complaining about pre-bookings cancellations. In that period, the number of tourists coming to Nepal also declined by 17 percent.
 However, the survey has found that tourism-related businesses were in better shape in March this year than in February, with 13 percent of the respondents reporting that businesses had "improved a lot" in March and another 37 percent saying businesses had "somewhat improved." But when asked whether business conditions would improve this year, only 26 percent of respondents answered "yes," 35 percent said "no," while 39 percent said they were "not sure."
 The survey also shows that one-star, two-star, three-star and tourist-class hotels performed better than four- and five-star hotels, indicating a shortage of high-end tourists. Likewise, tour operators seem to be in a comparatively better position than trekking agencies -- 72 percent of trekking agencies said business was lower this year, while only 53 percent of tour operators said that business was worse this year. Trekking agencies are less optimistic because they have seen a decline in the number of European and American tourists, who are more adventurous and who constitute their most lucrative clients.
 The survey, however, notes that an increment in tourist arrivals will depend on the country´s ability to promote Nepal as a value-for-money destination, just as Thailand has. The survey also suggests that the government prepare short- and medium-term measures keeping in mind the Visit Nepal Year 2011 plan. And "Tourism may not bounce back by 2011," states the survey, warning that the government´s target of attraction one million tourists in that year may remain unfulfilled if concrete measures are not taken now.
 Nepal currently attracts only around 500,000 tourists a year, but this sector provides employment to around 240,000 people and contributes around three percent of the GDP.
 The survey was conducted among 95 tourism-related institutions, including hotels, tour operators, trekking agencies and airlines.


●Tourist arrivals up 15.8 pc●
Source:Artha Express Posted on 2009-05-05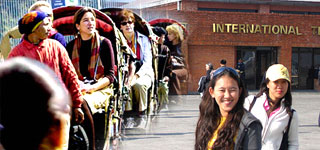 KATHMANDU: After witnessing three consecutive months of declining arrivals, the tourism sector has finally seen a glimmer of hope. Tourist arrivals via air impressively went up by 15.8 percent in April, bucking the trend forecast by many.
 Earlier, in the wake of the global financial crisis, travel experts had predicted that fewer numbers of tourists would be coming to Nepal throughout the year. But figures from the Nepal Tourism Board (NTB) showed tourist arrivals for the month of April standing at 37,819, compared with 32,665 for the same month last year. "The figure in a way has challenged the worldwide decline in tourist arrivals," Nepal Tourism Board (NTB) said in a statement issued on Sunday.
 The data compiled by NTB showed strong growth in the number of Indian visitors. A total of 8,303 Indians visited Nepal in April - up 27.3 percent. The number of British tourists coming to Nepal also went up by 38.9 percent, to 3,509, while the arrival of German visitors reached 1,858 in April - up 38.3 percent.
 Even tourist arrivals from the US-- another country hard hit by the global economic downturn -- posted a growth of 5.8 percent. NTB said a total of 2,693 Americans came to Nepal in April, compared with 2,545 of last year. However, arrivals from some of the European countries like France, Italy, the Netherlands and Austria continued to decline in April.
 Among Asian countries, arrivals from all countries, except Japan, posted a positive growth. The number of Chinese visitors went by up by 27.3 percent, while the number of South Korean tourists went up by 73 percent.
 "The remarkable growth in visitors´ arriving from India and China, our immediate neighbors and major players in our intraregional tourism sector, underscores the need to focus in the regional markets at the time of economic crisis," NTB said.
 Despite the growth in the arrival of tourists in the month of April, however, the overall number of foreign visitors coming to Nepal in 2009 fell by eight percent, to 117,949. This was largely due to declines recorded in the first three months of 2009.
●Fuel shortage worsens●
Source:Artha Express Posted on 2009-04-28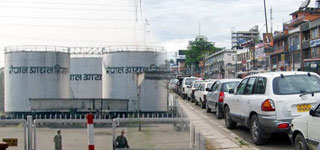 KATHMANDU: Consumers already suffering from severe fuel shortage did not get the fuel on Monday too as fuel supply worsened after the drivers of NOC-hired tankers refused to transport fuel to the market, citing security reasons.
 The drivers refused to transport fuel following an attack on tankers by Tharuhat protestors while the tankers were being escorted from Birgunj. A tanker helper was injured in the attack. The tanker staff stopped working, saying that they did not believe in security arrangements made by the government.
 They had demanded the government to compensate the damage to the vehicles and staff, make arrangements to import fuel during day time and beef up security if it wished them to return to work.
 However, the returned to work after an emergency meeting of NOC Board agreed to fulfill their demands. Though they returned to work late in the evening, the day´s supply had already been affected.
 Prior to the attack, officials had said that the corporation had transported 133 tankers (about 2,100 kiloliters) of petroleum products via Amlekhgunj on Sunday. Of them, 96 tankers were dispatched to Kathmandu on Sunday night itself.
 However, owing to the lack of coordination between the drivers and the security agencies in Chitwan, where curfew was imposed from 12 pm to 3 am to pass the vehicles, only half of them reached Kathmandu.
 "Sadly, even that fuel could not be distributed till late in the evening due to the strike," said Ramesh Koirala, deputy director of the corporation.
 As a result, some 103 private dealers had their refilling stations shut down. Long queues were seen at the army and police run refilling stations.
 The market has gone almost dry for the last few days after NOC distributed a mere 30 percent of the required volume in the market over the last few days, saying that its stock had dwindled and supplies badly affected due to 35 days of highway closures during the last two months.
 To prevent the market from going completely dry, the government has imposed night curfew in Bara and Chitwan so that NOC could move tankers through.
 "Yesterday we brought in 133 tankers of fuel. Today, 150 additional tankers have already reached Raxaul for fresh consignment," said Koirala.
 Despite all these effort, sources at the corporation told myrepublica.com that consumers would continue to suffer from the short supply. Reasons: the volume of imports made amid odds always remains short than normal imports. On top of that, the corporation has no stock to match with the demand. Disturbance in the supply process just for a day affects the supply for many days.
 While officials admitted that the saga of present problem has to do with the myopic and insufficient inventory management of the corporation, they noted that solution out of it lies firstly on addressing the Tharuhat protest and secondly on revamping NOC´s inventory management and operations once the present shortage end.



ARTHA EXPRESS日報

●Where Nepali currency has no value●


Posted on 2009-07-06
DANG: During a recent visit to Sukauli of Bela VDC-3 in Dang district, Ajaya Sharma of Ghorahi tried to buy a biscuit from a local shop. But the shopkeeper, Bijaya BK, made him return the biscuit because Sharma did not pay in Indian currency.

"I was stunned when the shopkeeper initially refused to make the sale. Later, I came to know that in this part of Nepal, our currency has no any value," says Sharma.
BK, on the other hand, has his own story to tell. "We have to go to India even to buy a matchbox. What's the use of our currency when the Indian shopkeepers do not accept it?" BK says. "We are compelled to use Indian currency."

The state of statelessness in the 22 villages bordering Dang district has caused serious problems, such as the currency one, for locals.

The Nepali state does not provide basic facilities, such as education, health, telephone services, and so on, to these villages, which are a two-day walk from district headquarters Ghorahi. "This village is Nepal's only in name. We have to depend entirely on India to eke out our livings," says Junsari Gharti of Rajpur-7.

"And Indian border security personnel, because they provide the security here, demand our chickens and goats," she says.

And the Indian towns across the border are the only ones that the some 6,000 Nepalis here can turn to for medical facilities.

"We have to take our kids to India for regular vaccinations because we don't have a health post," says Laxmi Budha of Bela-3.

"Imagine, what our plight would be if we didn't have Indian currency suppose somebody were to suddenly fall ill," says Budha.

The locals seem little convinced with the government's recent assurance that it would provide various facilities, including security.

They have been demanding that the Nepali government work with Indian authorities so that they can use Nepali currency in Indian border towns.

"Either the Nepal government should provide us with facilities here or take initiatives so that we can use Nepali currency in India without any hassles," says a local at Koilabas-2.


●CG Manipal acquires Campion●


Posted on 2009-07-06
KATHMANDU: Chaudhary Group (CG), in partnership with Manipal Group has acquired 90 percent shares of Campion schools and colleges leaving the original owner to retain 10 percent shares.

CG is one of Nepal´s leading business houses and Manipal is India´s leading business organisation involved in education sector. Their joint venture ---CG Manipal announced a partnership with Campion network amid a function on Saturday. With this partnership, the CG Manipal will be running Campion School, Campion Academy, Campion College and Campion Kathmandu Higher Secondary School. This network at present caters to over 1700 students, according to press release of CG Manipal.

CG-Manipal promised technology-based interactive and scientific education system in Campion with their involvement.

"The fee structure will not be so different from earlier ones," said Pradeep Raj Pandey, vice president, special project at CG.

Chief Executive Officer of Manipal K-12 Education, Meena Ganesh said that the students at Campion will be provided well-tested modern learning environment in Campion.

During the programme, Minister for Education Ramchandra Kuswabaha and Indian ambassador to Nepal wished all success of Nepal-India joint venture in education sector.

Sood expressed the hope that Campion would produce talented manpower Nepal would proud of.

●Businessman abduction still under cloud●


Posted on 2009-07-03
Businessman abduction still under cloud

Kantipur Report

NEPALGUNJ, July 2 - The status of abducted businessman Gaurav Krishna Rastogi is still unknown even five days after the ransom was paid for his release.

On the basis of cell phone numbers used by the abductors when they were demanding the ransom, police recently arrested two people.

However, police have since felt that both the arrested persons could be innocent.

During the police interrogation, the arrested claimed that the real abductors might have registered the cell phones used in making the ransom call by producing their citizenship certificates. "I myself was abducted recently and freed after my family paid a Rs. 100,000 ransom to the abductors in Hetauda," police source quoted one of the detainees as saying.


●Rhino poaching hits tourism●


Posted on 2009-06-23
SAURAHA: Tourism entrepreneurs here have been unable to make tourists lengthen the stay of tourists in this popular destination, thanks to a dwindling number of rhinos, a major attraction, and lack of fresh programmes.

The entrepreneurs have been relying too heavily on Tharu culture, Chitwan National Park safari, elephant safari, sun-setting sights and village tour, which comprise a three-day package. On top of all this, rhinos have become a rare sight here due to rampant poaching of the endangered species. All this does not bode well for Sauraha, which is rich in biodiversity.

Tour operators are already talking about the loss rhino poaching could cause. Tourism expert Dr. Rudra Upadhyaya says rhino conservation is a must for the survival of Sauraha´s tourism industry.

Tharu culture and lifestyle, another attraction, is also under threat. Hari Bhakta Ghimire, president of the Regional Hotel Association, says concrete houses are replacing Tharus´ traditional houses that are made of Khariya and Khar (dried grass).

"These days, it is hard to get a full glimpse of the Tharu culture at one place," Ghimire laments. Elephant safari is quite popular among Nepalis, but all is not well with this tourist attraction.

●FM stations to broadcast SLC results●


Posted on 2009-06-23
KATHMANDU: If all goes well, School Leaving Certificate (SLC) examinees will be able to hear their results, likely to come out in the first week of July, through FM stations.

Talking to the Post, Gopal Prasad Bhattarai, Deputy Controller at the Bhaktapur-based Office of the Controller of the Examinations (OCE), said they were yet to decide on some FM stations´ proposals to transmit the SLC results through air waves.

This year too, the OCE is planning to publish the result through a number of mediums such as telephone, SMS, websites and newspapers.

Only The Himalayan Times and Annapurna Post applied for the tender that the OCE invited on May 7 for newspapers interested in publishing the results. Like last year, the state-run Gorkhapatra did not bid this year as well. According to Bhattrai, Gorkhapatra cannot publish the results unless the Cabinet gives it a go-ahead.

He added they were about to complete the verification of data: The final-stage preparation for the publication of the results, which according to Bhattarai is likely to happen in the first week of July.

Altogether 412,081, including 364,591 regular and 47,490 exempted students, sat for the 10th grade examination this year.


●Lagankhel bus park turning into dumping site●


Posted on 2009-06-19
Lalitpur: Locals and commuters alike are at the receiving end due to the heaps of stinking garbage piled up at Lagankhel bus park. Every passer-by has to close his nose while crossing the area, so does every passenger getting off the buses at Lagankhel, thanks to the apathy of the authorities to clear the garbage.

Shital Lama says she feels nauseated while passing Lagankhel. Though she has to visit Lagankhel only occasionally, she catches flu after passing through the area.

Over 15 tons of decaying garbage has piled up at the bus park area. Besides affecting the health of locals and passers-by, this has caused difficulties in parking public vehicles, says Ramji Thapa, a microbus driver.

Renu Karki, who has been selling vegetables near the bus park for a decade, has however learnt to bear with the situation. "What else can I do? I cannot just run away. I have to feed my family," says Renu.

In the past, the situation was not that bad, Renu says. She says the municipality used to lift the garbage twice a day in the past, but it doesn´t even clear the garbage once these days. Locals said a number of slaughterhouses dump their waste in the bus park area.

Environment section chief of Lalitpur sub-metropolitan city Pradip Amatya says the as the amount of garbage is increasing, the authorities are having a tough time managing waste. He says even private sector garbage collectors dump waste at Lagankhel, compounding the municipality´s problems.


●Gold import shots skywards●


Posted on 2009-06-16
KATHMANDU: The import of gold has soared in the last two years even as gold dealers complain that they have sales of gold has not been very good in recent times.

According to a Nepal Rastra Bank (NRB) report, gold import increased by 301.5 percent in the nine months of the current fiscal year against the same period last year. Moreover, the gold import saw an increase of 3048.4 percent during the same period last year against the corresponding period the previous year.

The import of gold reached worth Rs. 9.6 billion during the nine months of fiscal year 2008/09 against Rs. 2.4 billion during the same period in 2007/08. The last year´s import was up from Rs.76 million in fiscal year 2006/07.

Those involved in gold transaction have argued that the sudden increase in the gold transactions here is due to the growing tendency of the Nepalis to invest in gold although it has not as widespread as investing in shares.

Bijaya Satyal, former chief executive officer of Commodities and Metal Exchange Nepal Limited (COMEN), which works in trading of gold like that of shares, said that increased investment in gold as an alternative investment portfolio over the last two years has been mainly responsible for soaring import of gold.

Satyal, who was with the COMEN until recently, said that over 300 kilograms of gold is being sold for jewellery a month whereas over 100 kg is sold for investment.

Tej Ratna Shakya, president of Nepal Gold and Silver Dealers Association (NEGOSIDA) was also of the view that as much as 25 percent of gold being purchased was for investment although this practice was insignificant a few years ago.

"The discrepancies between import and sales in the market show that increasing quantity of gold has been purchased for investment instead of utility," he said.
According to him, the gold sales saw a marginal increase this year compared to last year whereas the import has gone up dramatically. "The average sales of gold remained as high as 10 kg per day over the period of April 2008- April 2009," said Shakya. The sales figure was a little less that 10 kg per day during the same period in previous year, according to him.

The open general licence (OGL) system the government introduced for gold import two years ago also contributed to big increase in import in the last two years. With the OGL, anybody willing to import gold and silver can do so formally while people were restricted to import gold earlier. Only those who stayed abroad for a certain period could import gold before OGL was introduced.

Their argument holds ground with the growing import and sales of gold by the banks involved in transaction of gold.

According to NIC bank which has been involved in transaction of gold for the last two and half years, its import increased by as high as 40-45 percent and sales has grown by more than 50 percent in the last one year.
Saroj Guragain, chief at treasury and bullion department chief of NIC, said that the gold market was growing due to enhanced purchasing capacity of people and consumer culture.
NIC sells gold in 100 gram and 1 kg denominations. "There is a tendency of purchasing gold when prices remain low as well as when the prices are going up," Guragain said.

NRB executive director at the research department Trilochan Pangeni said that the increase in gold import in terms of value was also due to due to the rise in gold prices in the international market coupled with the depreciation of Nepali rupees against dollar this year.


●Park ecology under threat●


Posted on 2009-06-12
CHITWAN: Over three dozen natural ponds inside Chitwan National Park (CNP) have either dried up or turned swampy thanks to the long drought and invasive plants thriving over the pools.

CNP officials are concerned that the park's ecology could get disturbed as natural water resources go dry.
Moreover, wild climbers have encroached upon large swathes of grassland near the ponds, where animals like the one-horned rhinos and deer graze.
There are 41 ponds inside CNP. Some are artificially built, but the ones drying up are natural ponds.

Mikania micrantha, a type of invasive plant species locally known as Banmara, has grown over the ponds and flourished towards the grassland limiting both food and water for animals, said Ashok Bhandari of CNP. "There is pressing need to preserve water sources and grassland to maintain biodiversity and ecological balance. Almost all the ponds are drying up rapidly and this will have a terrible impact on animals and the environment."

Currently, CNP is focused on grassland management inside the park area. However, no initiative has been taken to save the ponds.

Local conservationists say improving ponds is equally important as grassland management. They claim that many animals, including the one-horned rhino, have been straying far off from their usual habitat in search of water.


●Parking woes spilling on roads●


Posted on 2009-06-09
KATHMANDU: Denizens of the Kathmandu Valley are facing traffic congestion for want of parking lots and excessive number of vehicles, say officials.

Haphazard parking of vehicles is also contributing to this problem.

Valley´s roads have a total length of nearly 1,400 kilometres. However, a huge number of vehicles do not have enough space to park.

Deputy Superintendent of Police Bikash Shrestha at Metropolitan Traffic Police Division (MTPD) says, "There are nearly 4,20,000 vehicles registered in the Bagmati Zone but 5,00,000 vehicles are running on the road."

According to him, a good number of vehicles registered in India are plying here.

According to MTPD, there are just 152 taxi stands in the Valley for a total of 7,000 taxis. DSP Shrestha says, "Haphazard parking ultimately causes traffic congestion."

Also, motorcyclists are avoiding the rules and regulations of parking which add to the troubles of parking and bike theft. The traffic police at times confiscate the illegally parked bikes but still the problem is prevalent. "On an average, we About 20 to 22 vehicles are picked up every day on an average," a traffic police officer says.

Haphazard parking is rampant in Thamel, Putalisadak, Kalanki, Tripureshwor, New Road and Durbar Marg. Chief of the Enforcement Division of the Kathmandu Metropolitan City Dhana Pati Sapkota says, "We impound vehicles parked in no-parking zones to deter vehicle-owners from repeating the act."

Former Mayor of Kathmandu Metropolitan Keshab Sthapit says, "In the Kathmandu Valley, roads can be built along river corridors. Roads having total length of 1000 kilometres can be built along stretches that have been lying unused. All these measures can ease traffic congestion."

Sthapit also dwelt on his plan to put in place a traffic control system inside the Valley. The former mayor said he could not set up the system because of the state´s inaction.

Sthapit says the city´s development has hit a snag due to shortage of funds and other hurdles in the execution of policies.

On the other hand, Chief of the City Development Department Bimal Rijal says "Every mayor comes with some vision but KMC cannot do justice to everyone´s idea."



●Koshi embankment repair left incomplete●


Posted on 2009-06-07
KATHMANDU: The Confederation of Nepalese Industries (CNI) has asked the government to initiate different measures that will help the industries, including the adoption of the Multiple Value Added Tax (VAT) system. The apex body of Nepali industrialists has suggested four rates--1, 4, 8 and 13 percent of VAT-- where the rates vary according to the nature of a business enterprise.

"The existing single-rate VAT system should be changed into multiple rates VAT to promote production-based industries and to increase investment in the country"" CNI president Binod Kumar Chaudhary said.

The Federation of Nepalese Chambers of Commerce and Industry, and the Nepal Chamber of Commerce and other business organizations have been putting forward the demand for the multiple-rate VAT for a few years now. But the government has been turning down their demands fearing that some goods will gain undue benefit from lower rates of VAT. Under the existing VAT system, the government is enforces a single rate of 13 percent VAT.

The CNI has suggested that a four percent VAT be imposed on food commodities, including sugar, refined flour, mustard oil and vegetable ghee. CNI has also suggested the enacting of a Special Economic Zone (SEZ) Act to establish SEZs in Jhapa, Dhanusha, Birgunj, Panchkhal, Jumla and Dhangadhi, with the provision for product-specific, service-specific and area-specific development in those areas.

To promote the industries that use local resources, the CNI has also demanded 99-year leases for limestone quarries, besides keeping the royalty amount unchanged for 10 years. The CNI also wants the scrapping of the 13 percent VAT scheme on dairy industry and wants the government to declare tea estates as SEZs.

In a meeting held to discuss the CNI´s issues, CNI president Chaudhary demanded that the government exempt the income tax for companies that employ more than 200 workers; he also said that a similar facility should also be given to the business enterprises that employ the most number of women. The government has already adopted a policy to provide income tax exemptions for industries that employ more than 500 workers.

"The government should also give continuity to the popular programs initiated by the earlier government," said Chaudhary.

The CNI also demanded that the government focus on increasing investment in infrastructure and on encouraging public-private-partnership in productive ways that benefit the state and the private sector. In reply, Finance Ministry Surendra Pandey gave assurances that the government would incorporate in the upcoming budget the suggestions made by the private sector.


●Garbage collection to resume●


Posted on 2009-06-02
KATHMANDU: Following the Okharpauwa locals' agreement not to obstruct garbage disposal, garbage collection will resume on Tuesday after being halted over the last five days, Kathmandu Metropolitan City (KMC) said on Monday.

"Garbage disposal will resume from tomorrow," said Rabin Man Shrestha, chief at the Environment Section of the Kathmandu Metropolitan City (KMC). "We reached a three-point agreement with the locals addressing their demands," he added. Their demands include repairing the road, construction of hospital and irrigation canal, provision of drinking water and employment for each household of the Soldole area.

He also informed that the KMC is considering a master plan on garbage management.

Different groups of people with various demands have obstructed the disposal for 100 days since 2005, said KMC.



●Gold up by a goodly hop●


Posted on 2009-06-02
KATHMANDU: Gold became costlier by Rs 340 per 10 gram this week. The precious yellow metal this week closed at Rs 24,005 per 10 gram from last week's closing of Rs 23,665. The domestic market witnessed a gradual hike in the price of gold, pushed up by the international price.

"The international market has pushed up the price of gold here," said Nepal Gold and Silver Dealers' Association (NEGOSIDA). A strong global share market and rise in oil price have pushed the international price of gold, making it costlier here. Gold was traded at $951 per ounce in the world market last Friday and was $963 per ounce — a rise of $12 per ounce — today on Friday. Due to high international price, domestic transactions are likely to be hit.

The price rise has taken toll as during November-December 1998, around 1,050-kg of gold used to be transacted in a month — 35 kg per day — it being the wedding season. It worsened in 2007, with the transaction of gold per day hovering at around only five to 10 kg per day. This past season again, transactions picked up to around 15 kg per day sale. However, the recent increase in gold price has again started hitting transactions.

The trend of investing in gold for security had picked up in Nepal, giving a boost to the transaction of the yellow metal in the domestic market. The trend of holding gold had also increased by 10 to 20 per cent as against only five per cent last year.

The domestic market saw the highest price of gold at Rs 25,500 per tola last October since same year's July, when it was Rs 25,450 per tola.

NEGOSIDA said that the bullish trend of gold is likely to continue. Meanwhile, silver also followed the bullish trend as it closed at Rs 377 — Rs 10 higher than last week's Rs 367 per 10 gram.



●Sugar price now Rs 53 per kilogram●


Posted on 2009-05-28
KATHMANDU: Retailers have started selling sugar at Rs 53 per kg across the Valley from Wednesday. The new rate is seven rupees cheaper than what prevailed in the market till Tuesday. Amid shortage of sugar due to decline in production, retail sugar price had shot up to Rs 60 per kg for last couple of weeks.

"Retailers have begun selling sugar at the new rate after the government decided to supply us at lower rate," Siddhi Gorkhali, office secretary of Nepal Retailers´ Association told Republica.

Gorkhali said National Trading Limited, a government undertaking, and Salt Trading Corporation, a semi government entity, have agreed to provide sugar to retailers at Rs 51.75 per kg up to five quintals at a time on the recommendation of the association.

"Member retailers of the association will get the recommendation through its 33 area offices and the head office," said Gorkhali. Retailers will get recommendation for sugar through Patan Khadya Byapar Sangh and Bhaktapur Retailers Association also.

The government effort to sell sugar at subsidized price was delayed due to dispute between retailers and Salt Trading and National Trading about commission. Originally retailers were offered a kg of sugar for Rs 52.75 per kg to be sold at Rs 53 per kg. Retailers had rejected the offer citing that they can´t sell sugar with a meager commission of Rs 0.25 per kg.

The association has about 2,300 members. Each retail shop is estimated to sell average 50 kg of sugar every day.

Nepal needs 110,000 tons for annual consumption with the domestic production falling short of 50,000-60,000 tons as compared to total requirement.

Price of sugar has skyrocketed for the last few days due to drop in sugar production in the country as well as in the world market.

According to the Ministry of Agriculture and Co-operatives (MoAC), the production of sugarcane nosedived to 2.48 million tons in 2008/09 from 2.6 million tons the year before.

In a bid to cool down the ballooning sugar price, the government had decided to intervene in the market by distribution sugar through National Trading, Salt Trading and Nepal Food Corporation at subsidized rate of Rs 51.5 per kg. To ease the supply, the Ministry of Commerce and Supplies has already decided to procure 50,000 tons of sugar from India. However, the decision has yet to be endorsed by the cabinet.

International Sugar Organization (ISO) said sugar production across the world is expected to fall short of production by 4.3 million tons as compared to last year. The production was forecasted 161.53 million tons this year. However, the global consumption is expected to go up by 1.5 percent to 160.9 million as compared 158.6 million tons the previous year.



●NRB stops printing polymer notes●


 Posted on 2009-05-19
 KATHMANDU, May 19 - Nepal Rastra Bank (NRB) has stopped printing polymer notes after two press runs as they didn´t prove very popular with the public.
 The central bank had introduced polymer notes of Rs. 10 denomination on Sept. 30, 2002 and again on Sept. 12, 2005. It has gone back to paper notes.
 Ashwini Kumar Thakur, executive director of the central bank´s currency management department, said they had discontinued printing polymer notes after difficulties arose in their exchange because of unnecessary rumours.
 "We found that a number of shops outside Kathmandu were refusing to accept polymer notes," he said.
 After rumours spread that torn polymer notes would not be exchanged by the central bank, people became reluctant to accept them even though the NRB had clarified that damaged notes would be exchanged. According to an NRB official, the notes printed in 2002 were not of a very good quality, and the colour faded within a short time.
 "This also may have made a bad impression on the people," Thakur said.
 The central bank had gone for polymer notes thinking that its longer lifespan would save it from having to print new notes each year. The lifespan of polymer notes is estimated to be three times longer than that of paper notes.
 "But the cost of printing is almost twice that for paper notes," he said. NRB had planned to issue polymer notes of other denominations if the Rs. 10 note became a success.
 NRB is not sure if polymer notes will be reintroduced. "It is most unlikely to happen anytime soon," said Thakur.
 However, he said that the central bank could introduce polymer notes of high denominations as they were virtually impossible to counterfeit. Counterfeit notes of Rs. 500 and Rs. 1000 denominations have surfaced at various times.
No Rs. 25, Rs. 250 notes
 Nepal Rastra Bank (NRB) never reprinted notes of Rs. 25 and Rs. 250 denominations after introducing them in 1997 as they were not well received.
 The central bank had printed paper notes of Rs. 25 denomination on April 11, 1997 and Rs. 250 on April 10, 1997. The central bank had printed 40 million pieces of Rs. 25 notes. Likewise, five million pieces of Rs. 250 notes were printed. Ashwini Kumar Thakur, executive director of NRB´s currency management department, said that NRB discontinued reprinting these notes as they could not be popular as expected.
 He added that the central bank had no immediate plans to reprint these notes. The Rs. 250 notes were printed to commemorate the silver jubilee of ex-king Birendra Shah´s accession to the throne.


●Yamaha FZ16´s Everest campaign launched ●


 Posted on 2009-05-18
 Kathmandu: Morang Auto Works (MAW), the sole authorized dealer of Yamaha motorcycles for Nepal, has announced a "Road Trip to Everest" campaign in which its latest FZ16 bike will set out to conquer Everest base camp.
 According to the information released amid a program on Sunday, three lucky customers of FZ 16 chosen via a lucky draw, and three celebrities will also accompany the FZ16--the most preferred and awarded bike in 150cc category.
 This is first ever adventure of the kind planned so far for bikes in this category. The campaign is led by three youth icons--Nima Rumba, Dipak Bista & Suraj Singh Thakuri-- said a press release issued at the program; the release also says that " the FZ16 is confident of conquering the Himalayas through its new campaign."
 To reach Everest Base Camp from Kathmandu, the riders will be riding to an altitude of 5,200 meters and they will cover a total distance of 1,100 Km. "This is the first time in the history of Nepal that a bike in the 150 CC category will be ridden to such high altitudes and on such a route," said Vishnu Kumar Agrawal, chief executive of MAW.
 Agrawal also informed the gathering at the program that since the FZ16 was designed to run on rugged and crater-filled roads, the bike should be able to perform excellently. "The purpose of the campaign is to establish the FZ16 bike as not only a means of transportation but as also a bike that´s a pleasure to ride, even under adverse conditions," said Agrawal.
 The trip to Everest Base Camp will start on the 18th of July and is expected to end on around the 25th of the month.


●Dollar, gold expensive●


 Posted on 2009-05-17
 KATHMANDU: Nepali currency and bullion markets that are both directly governed by the international market went through major upheaval this week. While Nepali currency weakened against the US dollar, both gold and silver prices continued their rally in the wake of gains recorded in the international market.

Currency
 Nepali rupee slipped by 80 paisa against the US dollar, mainly as the greenback appreciated vis-à-vis Indian currency with which it is pegged.
 Nepal Rastra Bank, the monetary authority of the country, had fixed the rupee at Rs 79.20 per US dollar on Sunday, when the market opened this week. It, however, fluctuated by 10 to 20 paisa over the next three days, and depreciated by 65 paisa overnight touching Rs 79.75 per dollar on Thursday. Rupee further dropped by 25 paisa and was exchanged at Rs 80 per dollar on Friday.
 Nepali currency also recorded a sharp drop against euro and pound sterling, the two major convertible currencies. It weakened by Rs 2.26 against euro and Rs 1.92 against pound sterling over the week. On Friday, exchange rate of a euro was fixed at Rs 108.55, while pound sterling was Rs 121.12. As per the existing open market exchange rate policy, rates quoted by different banks, however, may differ.

Bullion
 Gold became expensive by Rs 30 per gram over the week, as rise in international prices pushed the price of this precious metal to Rs 24,135 per 10 grams in the domestic market on Friday.
 According to Nepal Gold and Silver Dealers´ Association (NGSDA), the yellow metal was traded at Rs 23,835 per 10 grams on Sunday. It lost Rs 12 per gram overnight on Monday, but the price started to rally over the next four days. Gold became as expensive as Rs 24,265 per 10 grams on Thursday, but its price receded by Rs 130 per 10 grams on Friday.
 The price of silver also went up to Rs 368 per 10 grams on Friday. As Nepal fulfills its bullion demand through imports, any fluctuation in gold and silver prices in the international market directly impacts prices in the domestic market.


●BOOT schemes kick it up a notch●

 Posted on 2009-05-15
 KATHMANDU: In Kathmandu--a city that still has a traditional facade--large-scale shopping complexes have reshaped both the shopping habits of the city´s denizens and the city´s landscape. This aspect of Kathmandu´s push towards modernity has come about mostly because of what´s called the BOOT scheme. The acronym BOOT stands for Build Operate Own Transfer. And a great majority of the larger complexes that one sees in Kathmandu today were built under BOOT schemes.
 Thanks to these complexes--where almost any product that a shopper desires can be bought in premises that boast state-of-the-art facilities and amenities--shopping in the valley has become a delightful affair.
 To purchase their preferred brands of products, Kathmanduites now no longer need to wiggle through traffic-congested streets to get to their preferred shops, scattered in different corners of the city. "Many of the popular shops of yesterday have conveniently assembled themselves in complexes like UWTC and Share Market Complex, both of which were built under the BOOT scheme," says Sukunta Lal Hirachan, builder and operator of United World Trade Center (UWTC).
 The conveniences provided keep piling up too. For example, since ATMs and banks are built into the complexes, shoppers today do not have to carry hunks of cash. Furthermore, with shopping complexes offering so much, these complexes have become whole markets unto themselves--their shops peddle everything from daily consumable goods, care and wear items, and travel accessories to financial and logistics services. These days even barber shops and restaurants clubbed with the other shops, all under one roof.
 The developers, who are as giddy as the shoppers, know what has made all this possible. "In this space-constrained city, empty land is either owned by the government or public institutions. Hence, without BOOT, a majority of the large scale complexes that have enhanced shopping experiences would have never materialized," says Ichha Bahadur Wagle, a commercial complex developer.
 Kathmandu´s BOOT schemes first saw the light of day about a decade ago. The first complex to be built under a BOOT scheme was the Ranamukteshwor Business Complex, popularly known as RB Complex, in New Road.
 This leading crowd-puller, which offers products from leading Asian manufacturing countries, such as China, Korea, Japan, India, Thailand, and also from European and the United States, was built by RB Complex Private Ltd on land leased by Guthi Samsthan.
 The second major complex built under the BOOT scheme was the Share Market Complex, in Putalisadak. The third one was Lalitpur Bishalbazar, which could not bring in the crowds the way that its two forerunners have. The other notable BOOT venture is the Kantipur Mall, which serves the needs of the lower-middle income groups; it too was built on leased land--from the Kathmandu Metropolitan City office.
 But the landmark BOOT venture is undoubtedly UWTC, the fifth up in the lineup among these mega projects. It´s also the biggest shopping complex in the country. Built on about 0.56 hectares of land leased out by Tribhuvan University for 32 years, this six-storey building houses hundreds of outlets in its 61,538 square meters of usable space. For that space alone, the builder pays Rs 7.2 million a year to the university.
 To go with its prime size, UWTC it offers the most prime of amenities: Four lifts, six escalators, 24-hour power supply with generator backup, a fire-fighting system, accidental insurance provided for both shoppers and shopkeepers, an underground parking lot that accommodates about one thousand vehicles, and 65 CCTVs for security, among others.
 The success of BOOT ventures has been such that close cousins, who follow the basic BOOT blueprint but not the clients targeted, are also being spawned. So far, Kathmandu´s complexes have catered to the needs of the consumers, but an upcoming venture-- Trade Tower of Nepal (TTN), being built on more than 11 ropanis of land belonging to Nepal Food Corporation (NFC) in Thapathali--will cater to corporate clients. TTN has been designed to specifically meet the spatial and logistics needs of corporate offices.
 "Unlike the past BOOT ventures, ours will house offices of banks, hydropower companies, non-governmental organizations and other service-sector players," says engineer Shiva Hari Dangal of Makalu Developers, the company that´s developing the complex.
 TTN will be an eight-storey complex with 25,000 square feet of usable space on each floor and it will offer to its clients a common corporate secretariat, CCTV coverage, broadband internet, fiber optic linked telephones and common meeting spaces.
 The developer is investing Rs 400 million for the construction and is paying NFC Rs one million a month for its lease. TNN is planning to open its space for booking in about six months, and the offices can be leased for up to 30 years.
 For years on end, the people in Kathmandu have been told that the city would be turned into a Singapore. Singapore, the city certainly hasn´t become, but with BOOT schemes leading the way, at least the people in Kathmandu are shopping like Singaporeans do, and some may soon be working out of the kinds of offices that are there in Singapore.

●TIA security personnel fallen ill●
Posted on 2009-05-12
 KATHMANDU: More than two dozen security personnel deployed at Tribhuvan International Airport (TIA) have fallen ill simultaneously.
 They have been suspected of being affected by swine flu strain- known as H1N1- however, it has not been confirmed.
 They have been taken for treatment at the Teaching Hospital in Maharajgunj after some security personnel started felling unwell this morning.
 The Ministry of Health and Population (MoHP) had urged the public to stay alert in the wake of swine flu outbreak in some of North American, western and Asian countries last week.
 It had called on all to take safety measures in order to keep swine flu at bay. TIA had also beefed up surveillance security following the threat of swine flu.
 The H1N1 virus has sickened more than 2,300 people in 24 countries.

●Gold edging towards ascending trend●


Posted on 2009-05-10
 KATHMANDU: The gold market this week closed Rs 390 higher on Friday than its opening price of Rs 23,360 per 10 gram on Sunday.
 On Monday, gold priced at Rs 23,405 per 10 gram. It increased by Rs 255 to Rs 23,660 on Tuesday but fell by Rs 85 on Wednesday to drop to Rs 23,575.
 Gold traded for Rs 23,660 again on Thursday and closed at Rs 23,750 on Friday. According to Nepal Gold and Silver Dealers' Association (NEGOSIDA), gold priced $885 per ounce in the international market last week and closed at $913 per ounce this week.
 Meanwhile, silver opened at Rs 351.50 per 10 gram on Sunday and traded for the same price on Monday.
 With an increase of Rs 4.50 silver priced Rs 356 per 10 gram on Tuesday. On Wednesday, silver traded for Rs 358 with another hike of Rs 6 on Thursday.
 Silver closed at Rs 366 per 10 gram, registering an increase of Rs 14.50 over the opening price


●Rupee gains, gold price drops●


 Posted on 2009-05-03
 KATHMANDU: Nepali currency vis-à-vis US dollar strengthened over the week, as greenback depreciated against the Indian currency, with which Nepali rupee is pegged. Decline in the price of gold in the international market caused the price of precious metal to drop in the domestic market, while Nepal Stock Exchange (NEPSE) index also dropped in the midst of gloom running deep in the country´s sole stock market.
CURRENCY
 Partially convertible Nepali rupee strengthened by 28 paisa vis-à-vis US dollar over the week and closed at Rs 80.12 per dollar on Friday as Indian rupee appreciated marginally against the greenback.
 Nepal Rastra Bank, country´s monetary authority, had fixed the exchange rate of a US dollar at Rs 80.40 on Sunday. It appreciated to Rs 80 per dollar on Monday, but soon caught depreciating trend over the next two days, with exchange rate of dollar climbing as high as Rs 81.15 on Wednesday. It, however, appreciated to Rs 80.50 perB dollar on Thursday and further strengthened on Friday.
 Nepali rupee, however, weakened against the euro by Rs 2.32 over the week and was closed at Rs 107.06 per euro on Friday. It depreciated vis-à-vis pound sterling by Rs 2.18 over the week and closed at Rs 119.07 per pound sterling on Friday. As per the existing open market exchange rate policy, rates quoted by different banks, however, can differ.  
BULLION
 Gold price dropped by Rs 60.50 per gram over the week and closed at Rs 23,360 per 10 grams on Friday in the domestic market. Nepal Gold and Silver Dealers´ Association attributed the decline to the drop in the price of gold in the international market.
 According to the association, gold was traded at Rs 23,965 per 10 grams on Sunday. While the price rose to Rs 24,135 on Monday, it spiraled downwards, dropping all along the remaining days of the week. On Wednesday, it dropped to Rs 23,660 per 10 grams. It was traded as 23,575 on Thursday and further dropped by Rs 115 per 10 grams overnight on Friday.
 Though the price of silver saw upheavals in the middle of the week, it closed at Rs 351.50 on Friday, same as the price at which it was traded on Sunday. As Nepal meets its bullion demand through imports, any fluctuation in gold and silver prices in the international market directly impacts the prices in the domestic market.


●NRB celebrates 54th anniversary●
 Posted on 2009-04-30
 KATHMANDU: Nepal Rastra Bank has stated its commitment to work continuously to minimise the risk of global financial recession in Nepal. The bank has assured to maintain financial stability for which it has been implementing regulatory and supervision works.
 NRB expressed this on the occasion to mark its 54th anniversary on April 27. Economists and finance experts speaking at the anniversary function of NRB stressed the need to expand its outreach to the remote and rural parts of the country.
 Acknowledging its role, NRB said that it would formulate monetary and fiscal policies so as to support the target of achieving high economic growth.

●Nepse down 7.8 points●
 Posted on 2009-04-27
 KATHMANDU: Nepal Stock Exchange started this week on a pessimistic note with Nepse index declining by 7.89 points on Sunday. The controversy regarding the possible removal of army chief Rookmangud Katawal is one of the reasons for the downfall of index, according to stock analysts. When the transaction was closed, Nepse index slid to 649.04 points. Sensitive index and float index were also down by 2.92 points and 0.84 points respectively. Howe-ver, Shanker Man Singh GM of Nepse said, "There is no economic reason for the down fall of Nepse. It is probably because of political uncertainties."
 The fall in share price of KIST Merchant Banking and Finance also had impact on the market. The price of KIST fell by 9.95 percent. Likewise, SBI Bank, Gorkha Development Bank and Global Bank were among the losers on Sunday. Bhrikuti Develop-ment Bank and Prabhu Finance were among the top gainers. Shares worth Rs. 42.9 million were traded on Sunday.

●Rupee weakens, gold price soars●
 Posted on 2009-04-26
 KATHMANDU: Nepali currency vis-à-vis US dollar weakened over the week, as greenback appreciated against the Indian currency, with which Nepali rupee is pegged. Rise in the price of gold in the international market steeply pushed the price of the precious metal upward in the domestic market, while Nepal Stock Exchange (NEPSE) index also dropped in the midst of gloom running deep in the stock market.
CURRENCY
 Partially convertible Nepali rupee weakened by 50 paisa vis-à-vis US dollar over the week and closed at Rs 80.40 per dollar on Friday as Indian rupee with which Nepali currency is pegged depreciated marginally against the greenback.
 Nepal Rastra Bank, the central bank, had fixed the exchange rate of a US dollar at Rs 79.90 on Sunday. However, Nepali currency continued to depreciate over the next five days. On Tuesday, the exchange rate dropped to Rs 80.50 for a dollar and declined further to Rs 80.85 on Thursday. However, rupee gained marginally on Friday and was closed at Rs 80.40 per dollar.
 Nepali rupee gained nine paisa against the euro over the week and was closed at Rs 104.74 per euro on Friday. But it depreciated by Rs 1.46 vis-à-vis pound sterling over the week and closed at Rs 116.89 per pound sterling Friday. As per the existing open market exchange rate policy, rates quoted by different banks, however, may differ.
BULLION
 Gold price soared by Rs 98.50 per gram over the week and closed at Rs 23,835 per 10 grams on Friday in the domestic market. Nepal Gold and Silver Dealers´ Association attributed the steep rise in the price to the rise in the price of gold in the international market amid downturn in major stock exchanges across the world.
 According to the association, gold was traded at Rs 22,850 on Sunday. While the price remained constant on Monday, it gained Rs 650 per 10 grams overnight and was traded at Rs 23,500 on Tuesday. On Wednesday, the price dropped by Rs 50 per 10 grams, but only to gain Rs 210 per 10 grams overnight on Thursday. It further went up by Rs 175 on Friday, when gold was traded at Rs 23,835 per 10 grams.
 Likewise, the price of silver also increased from Rs 344 of Sunday to Rs 351.50 per 10 grams on Friday this week. As Nepal fulfills its bullion demand through imports, any fluctuation in the prices of gold and silver in the international market directly affects the prices in the domestic market.

●Prices of pulses go up, rice and oils go down●
 Posted on 2009-04-24
 KATHMANDU: Prices of different varieties of split pulses have sharply gone up in the market over a week, following a rise in price in India coupled with increasing export to third countries. Despite huge rise in production of pulse crops in the country over six years, domestic market has been witnessing skyrocketing prices of the pulses.
 Grocers said price of lentil, one of the widely used pulses, went up by Rs 20 per kg to Rs 96 per kg on Thursday as compared to the price a week ago.
 Rahar dal or red gram and Maas or black gram also become dearer to Rs 92 and Rs 70 from Rs 76 and Rs 70 per kg, respectively. Similarly, price of Moog or green gram also soared up to Rs 92 from Rs 76 per kg.
 Production of lentil has increased by about 1200 tons during the past fiscal as compared to 149,963 tons in the fiscal year 2002/03.
 Exports of lentil, which covers 60 percent of total pulse production in the country, increased by 522 percent to Rs 1.3 billion during the year 2007/08 as compared to six years ago.
 However, price of edible oils fell significantly in the period of one month in line with the dipping international prices of raw materials. More than 90 percent of total domestic demand of rapeseed is fulfilled from imports.
 According to Rajendra Tuladhar, an oil seller at Asan, mustard oil is selling at Rs 120 per liter. The price of mustard oil was Rs 155 per liter a month ago. Sunflower oil and soybean oil also became cheaper by Rs 10 and Rs 15 per liter to Rs 120 and Rs 90 per liter respectively.
 "Falling international price of mustard, soybean and sunflower seeds pushed down the prices of edible oils," said Tuladhar.
 In the same tune, prices of rice also edged down over a month. The price of Jeera Mansuli, a popular variety among the middle-class consumers, went down to Rs 35 per kg from Rs 38 per kg a month ago. Sona Mansuli, another widely used variety also became cheaper to Rs 26 per kg from Rs 31 per kg.
 Satish Kumar Bohara, joint secretary of Nepal Rice, Oil and Pulse Industries´ Association, said prices of rice slid marginally down as the major rice mills in mid and eastern Nepal have begun to mill newly harvested paddy with the beginning of hot season.
 "Price began to go down gradually from last month. But the price will rise soon due to a ban of rice export by India and rising demand of rice due to sharp decline of winter crops, mainly wheat," Bohara told myrepublica.com.

●Highest altitude net service●
 Posted on 2009-04-22
 SOLUKHUMBU: A cyber cafe has started providing Internet service from Gorakse of Khumjung, which lies at an altitude of 5,180 metres in Solukhumbu district.
 The operator of Sherpa International Cafe, Chhetan Sherpa, claims the cafe provides Internet service from the highest altitude in the world.
 Gorakse is about one hour away from the Everest Base Camp. "We have started the service to enable tourists to communicate with their families," he said.
 Sherpa is also planning to extend the service to Dingbuche and Pheriche also.

●Rupee gains, gold price drops●
 Posted on 2009-04-19
 KATHMANDU: The Nepali rupee made gains on the US dollar over the week, as lowered demand caused the greenback to depreciate against the Indian rupee—to which the Nepali rupee is pegged. A decline in the price of gold in the international market also dragged down the price of precious metal in the domestic market, while for the first time in months, Nepal's sole stock market this week showed signs of a recovery.
CURRENCY
 On the Indian rupee's marginally strengthening against the greenback, the partially convertible Nepali rupee gained 35 paisa against the US dollar and closed at Rs 79.90 per dollar on Friday.
 Nepal Rastra Bank, the country's monetary authority, had on Sunday fixed the exchange rate for the US dollar at Rs 80.25. But the Nepali currency mounted a rally over the next four days: On Tuesday, the exchange rate dropped to Rs 80.15 per dollar and on Thursday further declined to Rs 79.85. On Friday, however, the rupee depreciated marginally and closed at Rs 79.90 per dollar.
 Over the week, the Nepali rupee also gained Rs 1.60 against the euro and on Friday closed at Rs 105.26 per euro. But the rupee depreciated by Rs 1.16 against the pound sterling and closed at Rs 119.53 per pound sterling on Friday. As per the existing open-market exchange-rate policy, however, rates quoted by different banks may differ.
BULLION
 The price of gold dropped by Rs 30 per gram over the week and closed at Rs 22,975 per 10 grams on Friday in the domestic market. The Nepal Gold and Silver Dealers' Association has attributed the dip in the domestic prices to the global decline in the price of gold, a result of the dollar's and the global stock market's both doing better.
 According to the association, gold was traded at Rs 23,275 on Sunday. It gained over the next two days and reached as high as Rs 23,535 per 10 grams on Wednesday. On Thursday, however, it dropped Rs 215 per 10 grams and further went down by Rs 345 per 10 grams on Friday.
 Likewise, the price of silver also dropped to 347 per 10 grams on Friday from Rs 350 on Sunday. As Nepal fulfills its bullion demand through imports, any fluctuation in gold and silver prices in the international market directly impacts the prices in the domestic market.

ARTHA EXPRESS関税情報